Welcome to Knots
Knots For Change Incorporated is a humanitarian and animal welfare organization dedicated to supporting those in need. Located in Toronto Ontario, Canada our products are trendy rope bracelets, with anchor clasps, emblazoned with a tag-word. The tag-word on each bracelet represents a specific cause, which is matched with a charity.
You see, Knots for Change's #1 goal is to
"Anchor People Who Care."
Our Mission
Our organization is dedicated to supporting those in need of help. By supporting Knots for Change, we donate 30% of our sales from each bracelet, directly to the charities matched to each cause. Our company's broad appeal reaches across demographic, geographic, and political boundaries. Knots for Change changes lives in Canada and throughout the world.

---
Justin Trudeau,
Prime Minister of Canada
"Thank you for your time in creating an initiative that delivers real change to Canadians across our great country."

Kathleen Wynne,
The Premier of Ontario
"I want to commend you on your charitable efforts, and I offer you my best wishes for continued success."
Marina Glogovac,
President & CEO | Canada Helps
"With your gift, we will continue our efforts to expand and upgrade affordable technology tools and education for charities to save them both administrative time and money. We have exciting new plans, and support like yours will help us tremendously."

Emma Sutherland
Executive Director | Red Fox Healthy Living Society
"Your support means we can provide more opportunities for Aboriginal and inner-city youth to overcome barriers and realize their full potential. Our goal is to empower youth to make positive choices and build healthy, active lives for themselves. Your donation will enable six Youth Leaders to facilitate a children's recreation program, and stand as positive role models for the next generation."


Quinn Bingham
Vice President & Chief Development Office | Pathways to Education Canada

"Thank you for believing in the work that Pathways to Education is doing to inspire youth to achieve their best and break the cycle of poverty through education. Your gift through the sale of your bracelets makes an important statement that you believe we can build a Graduation Nation. Your decision to invest in Pathways ensures that our programming achieves the highest standards and impacts the greatest number of youth. Gifts like yours are making extraordinary things happen for youth across"

David Barth
Executive Director | World Accord

"We really appreciate the trust you have placed in World Accord to ensure your funds are put to good use -helping many people in the developing world create better lives for themselves. Your faith in us is precious. That faith is crucial if we are to continue to help our less fortunate brothers and sisters. We couldn't do it without support like yours."
Banting Research Foundation

"Thank you! Your donation have supported innovative health and biomedical research projects by outstanding early-career investigators."
---
We Offer Unique And Colourful

Bracelets
Knots for Change Inc. uses the finest Nylon material, for our ropes Nylon 6, and precisely molded Lead Free Metal Alloy for our anchor clasp, which is available in three plated colours (Silver, Gold & Rose Gold). Our bracelets are ingeniously designed and we offer a wide range of colour combinations for everyone. Each of our bracelets reflects a particular concept, which represents the meaning and conveys expressions of love, unity and happiness.

Our bracelets are useful for just about any occasion. You can give them to a loved one as a gift or celebrate friendship with them. Every joyous occasion can be marked with a beautiful bracelet. Knots For Change Inc. brings you bracelets with knot designs never before seen in the market. The most intricate handiwork and finest craftsmanship goes into making these bracelets. They are made by creative hands and every bracelet is a fabulous creation, bringing out a vivid assortment of colours and patterns. Our store has bracelets for men, women, and children as they are all unisex bracelets.
Browse through our website and choose your bracelet in just minutes. We offer an innovative design at a very affordable rate. Remember a portion of our sales proceeds goes directly to charity. We employ the best artisans to create these alluring bracelets, which you will enjoy wearing everyday.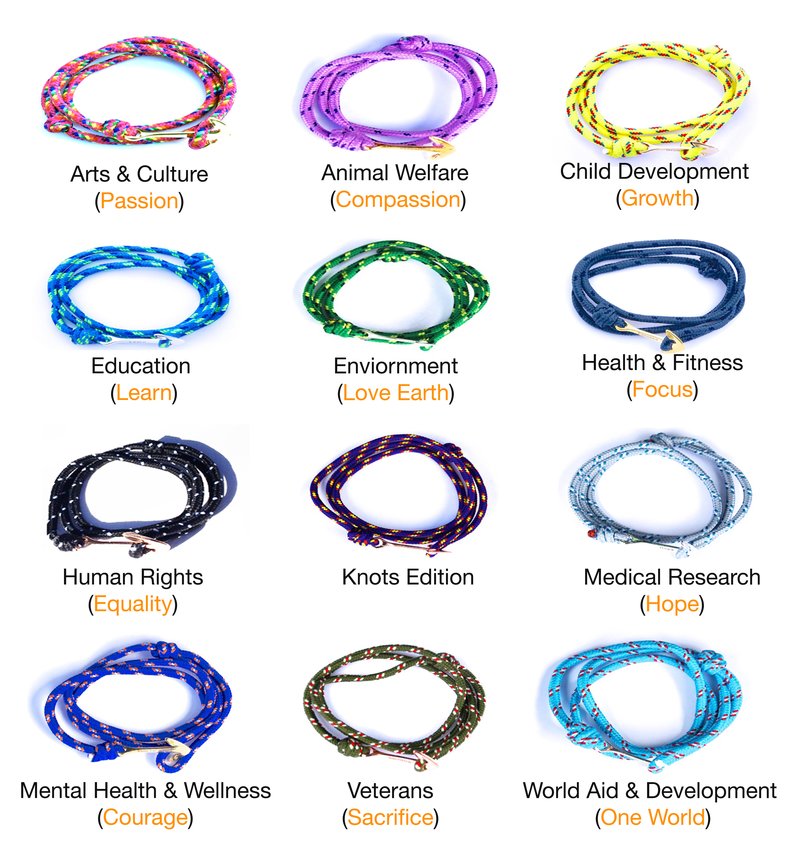 ---
*NEW*

ARTS & CULTURE - "PASSION"
Tandem Dance Studios
inspired our "PASSION" bracelet. This unique bracelet with rainbow colour highlights is extraordinarily symbolic and graciously bestows the energy of expression. 30% from each sale goes to the
Unity Charity
to support educational programs.
"If art is to nourish the roots or our culture, society must set the artist free ti follow his vision wherever it takes him." - John F Kennedy
---
Anchoring People Who Care
CHOOSE A CAUSE | CHOOSE AN ANCHOR | CHANGE THE WORLD!
Be apart of the change, tag your photos using

@knots4change

on social media.
---